Everyone Can Be a Silk Artist – Silk 2 App Review
Generative art apps and software allow you to create seemingly impossible, complex designs. This is due to their ability to take a single brush-stroke and have it fractal-out into dozens of mini brush-strokes, within a symmetrical-mirror. This allows users to create complex images that would otherwise take hours to replicate by hand. I have previously reviewed other generative art apps like: UZU for iPad (Full Review) and Fabrika (Full Review). Today, we have yet another generative art app called: "Silk 2". Silk 2's origins come from: http://weavesilk.com/, which is the website that created the app, both developed by Yuri Vishnevsky. What about Silk 1? Well, Silk 1 is now known as "Silk Legacy", which is essentially the same app, except for older iOS devices. Silk 2 promises to be a newer more improved version of it's predecessor, though it's practically the same app (Unless you have a iOS device with 3D-touch). ANYWAYS, Lets take a look:
---
---
Silk For Your Eyes and Ears.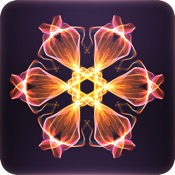 ---
WOO:

– Easily create mind-boggling complex drawings. (So easy you can literally close your eyes, scribble and you have ART!)
– A great tool for everyone from casual to serious artists.
– Comes with two-dozen different pattern brushes.
– Symmetrical mirroring allows you to create balanced, symmetrical designs.
– Beautiful, music and sound to compliment the visuals.
– Create art across platforms, with it's cross-compatibility. (Unless they're older devices.)
– Mix colors together to create color-gradients.
---
MEH:
– No color-wheel selector. (Just a few palettes to choose from.)
– Undo button is good, but only does one undo.
---
YUCK:

– Price-tag is a bit hefty for what you get.
– Silk 2 doesn't work on older devices, so if you have an older iPad, iTouch or iPhone then you'll have to pay another $3.99 for Silk Legacy.
(Why can't it just work across all devices if you paid for it?)
– Highest resolution the images can export: 1334 x 750, 72 DPI.
---
ME PERSONALLY:
I originally purchased this app on my iPad 2 and freaked out when I realized I couldn't use this app with my iPad 4! This is cause there are TWO versions of this app: Silk 2 for newer devices and Silk Legacy for older devices. That's my first major gripe with this app. Why not just have one version compatible across all devices, especially when both versions cost: $3.99? Luckily, I have a iPhone 6, which is compatible with Silk 2 and is what I used to create this review. Besides that flaw, it is a really great app! When you first open the app you're introduced to a black screen, with soothing MAGICAL music, the app prompts you to start drawing freely and that's when you realize why it's called " Silk". As you run your fingers across the screen, the brush-strokes flow from your finger-tips like..SILK . Things get even better once you realize you can change your brush to one of the other two-dozen designs, which create even more complex, geometrical patterns. Plus, mixing the colors to create gradients extend the possible outcomes of your design. The app does have a very specific look it can create, which is what I call: "flowy, futuristic, light patterns" and might not appeal to someone looking for something more rustic or analog looking. I wish the app could export higher-resolution images, cause the output is really only digital friendly, so it isn't ideal for print. Overall, it is a good app, but it does have some flaws that I wish were improved.
---
---
VERDICT:

Silk 2 is a really cool app that allows you to create digital artwork that looks like it would take years, when really it only took 3-minutes. You don't have to be serious artist to make amazing art with this app! It does have one major flaw, which is that if you purchase the newer Silk, you won't be able to use it with your older iOS devices. Besides that I definitely recommend it, just make sure to buy the right one!
---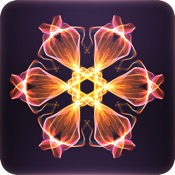 ---
Comments
comments
---