RPG: Role-Play-Gambling – Tower Of Fortune App Review
Do you like RPGs? Do you like Slot-Machines? Well, Tower of Fortune by Game Stew is an RPG, where the spin of a slot-machine can decide whether you: eat, drink, attack, loot and even die. This slot-machine RPG has a retro-looking style to it and better yet… IT'S FREE. Let's take a look at Tower Of Fortune:
---
Spin to Eat, Spin to Fight, Spin to Loot!
---
WOO:

– It's FREE!
– A simple pick-up and play game. (IT'S ADDICTING)
– Retro Original Gameboy/Game & Watch Graphics.(2-bit Color!)
– RPG Elements like: Leveling-up your character and increasing STATS like: ATK, DEF & LUCK.
– Obtain new weapons and charms to help raise attack, increase you luck, take more damage, etc.
– Buy different perks to help you out during fights.
( Buy a Bomb to throw at the start, Buy a Scroll for extra XP, etc)
– Climb/Buy-in to the different levels of the tower, with increasingly tougher enemies & better loot.
– During certain spins you can double-up by betting more gold.

– Multiple Game-Endings.
---
MEH:
– Customize your camp area. (There's better things to spend your gold on.)
---
YUCK:
– When grinding lower parts of the tower to level-up, you start noticing HOW LONG it takes for the slot machine to scroll and stop.
(An instant stop would be nice.)
– There is a sensation of complete mindlessness when it comes to each fight. (Just tap the button, if you are about to die, hit the exit button.)
---
ME PERSONALLY:
First coming across Tower of Fortune I knew I had to check it out, due to it's 2-bit style graphics. Usually, you see games replicate the 8-bit era of gaming, but it's pretty rare they kick it way back to the 2-bit era. It starts off with a super simple story: You're a retired hero, who's daughter gets kidnapped into the TOWER OF FORTUNE. You start off at the roots of the tower and fight your first enemy. It's super easy to understand, cause it's all one button: SPIN. Once, you defeat an enemy you get to: SPIN, again to decide how much loot (Gold) you get. As you get more gold, you can unlock different levels of the tower, which you'll find harder enemies, but also better rewards like: more gold, XP, weapons and charms. If you get killed during one of these fights then your character goes back to Level 0 and you loose all the XP you've gained, so it's important to make sure to watch you health and hit the EXIT button if things aren't going smoothly. Things can be a bit tedious and redundant if you do get killed and you begin grinding to get your character back up. The thing that would drive me crazy is: the scroll of the slot machine, which being an impatient person takes too long to STOP. A quick-stop button would've definitely helped ease my impatient brain. Overall, I really enjoyed the TOWER OF FORTUNE and I would totally check out the others in the trilogy.
---
VERDICT:

Tower of Fortune is a Slot-Machine RPG that has an ultra-retro 2-bit color palette. It features a few moments of mindless button smashing, though it still keeps you entertained and even addicted with it's various reward systems such as: leveling-up, getting better weapons/gear and GOLD. This is the first, in the now TRILOGY of Tower of Fortune games and now I'm curious of the rest of trilogy. I'd say CHECK IT OUT!
---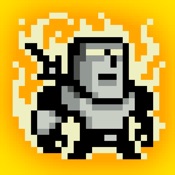 ---
Comments
comments
---